New Products
GasGrab™ Gas Cylinder Handles
GasGrab™'s unique patented scissor action clamps around the body of the cylinder allowing the operator to safely lift or move it a short distance.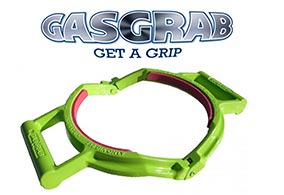 From only £89.95
Featured Product
Standard Gas Cylinder Cages
Our all new range of static cages now include high security hinges and fixings.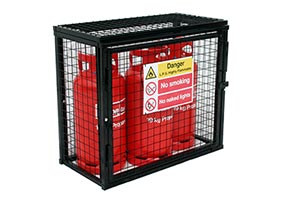 From only £210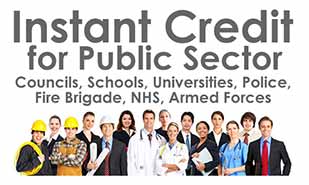 TERMS & CONDITIONS
Please read the following carefully. By using this website the "user" or "you" agree to the following terms of use.
Shopping with GasCageShop
You can order products
(1) on this website or,
(2) by telephoning,
(3) by faxing or,
(4) by post.
If you have placed your order on-line, we will quickly send you an e-mail to confirm that we have received your order. The email confirmation will be produced automatically so that you have confirmation of your order details.
Prices
Our prices are shown on GasCageShop.co.uk
We try to make sure that the prices on our website are accurate however, we will need to validate the price before we process your order. We also aim only to display items which are in stock and can be dispatched quickly. If we are unable to supply a particular item that you have ordered, or if the correct price for an item is different from the price on your order, we will notify you as soon as we can after receiving your order. We may offer a replacement or upgraded item as a replacement, but if this is not to your satisfaction, you may cancel your order and we will refund any money you have paid.
Price Promise
We make every effort to keep our prices as the most competitive available but should you find any equivalent item/package cheaper elsewhere we will match the lower price. Simply email us the quotation that you have been given or send us a link to the lower priced item and we will contact you to confirm your order.
Payment
You can pay by any Visa, MasterCard, Delta, Switch, Solo or JCB card. To ensure that shopping on-line is secure, your credit/debit details will be encrypted. For more details please contact us. The prices displayed on our web site are in British pounds. We currently debit money from your account the same day that your order is accepted and processed.
Delivery
We ordinarily deliver goods to mainland UK destinations. For delivery outside this area, please contact us. We aim to deliver goods to mainland UK destinations within 3 working days in most circumstances. Specific delivery times are dependent on the item ordered. Most orders sent will require a signature on receipt. Please ensure that someone is present at the delivery address to sign for the order. If there is not somebody present at the time of delivery, the courier company will leave their contact details so you can arrange another delivery time.
We will make every effort to deliver within the time stated on our website but we will not be liable for any loss caused to you by late delivery. If the goods are not delivered within the delivery time which we quote for that item, please contact us by email or telephone. We will try and ensure that you receive your order, as quickly as possible, or if you wish you may cancel your order and we will refund you any money which you have paid.
Returns
We endeavour to supply only the highest quality products and believe you will be delighted with your products from GasCageShop. However, if you are unhappy with the product in anyway you may ask for a full refund of the product less the cost of the return carriage, or exchange them within 14 days of receipt. You will then need to return the goods following the steps outlined below. We aim to keep the process as simple as possible.
The product must be returned in its original condition. You must arrange for the return of the goods, and you will be liable for the costs involved, unless the product is faulty. This charge also applies if you ask for an exchange. If this happens, please contact us first to arrange the return. We are not able to provide exchanges or refunds on items that are made to order unless they are faulty and replacement components aren't offered (this includes items that have been painted to your specific requirement).
Bespoke or made to order items are not returnable under any circumstances (unless faulty) and the order cannot be cancelled once production of the item has commenced.
Gas Cage Shop cannot be held liable for any associated instalation/administrational costs involved where a replacement part/item is offered to replace a faulty/damaged product.
Our Customer Service team will be happy to help you if you have any queries. You can email us at info@GasCageShop.co.uk or telephone us on 0800 788 0660.
Our responsibility
We will not be responsible for any losses resulting from your use or the inability to use our website or resulting from unauthorised access to, or alteration of your transmissions or data, consequential loss in circumstances which are beyond our control. We will not be responsible for your loss of profits, wasted expenditure, corruption or destruction of data or any other loss which does not directly result from GasCageShop. You will be responsible if you use this website in breach of these terms of use and will reimburse us for any loss that you cause to us as a result of your misuse. We make no promise that our website will be uninterrupted or entirely error free. Because of the nature of the Internet, the shopping online service is provided on an "as is" and "as available" basis. We are not responsible to you if we are unable to provide our Internet services for any reason beyond our control.
Links to other websites and services
Our website contains links to other websites which are not under the control of and are not maintained by us. These links are provided for your convenience only and we are not responsible for the content of those sites.
General
We may change or withdraw any part of our website, or may refuse you access to the website at any time if we consider it necessary. These terms are governed by the laws of England and Wales and any disputes will be decided only by the courts of England and Wales.
Copyright / Trademarks / Data Protection
All content included on this site including but not limited to web site design, text, graphics, audio clips, visual clips, logos, and the selection and arrangement thereof are the property of GasCageShop (Copyright © 2018, GasCageShop) or its suppliers and are protected by UK and international copyright laws. All software used on this site is the property of GasCageShop or its software suppliers and is protected by UK and international copyright laws. You may view, copy and print portions of our website for the sole purpose of placing an order with us. The materials on our website may not be used for any other purpose. We will use the information you provide and the records of items you buy to constantly monitor and improve our service and for marketing purposes in accordance with our Privacy Policy.